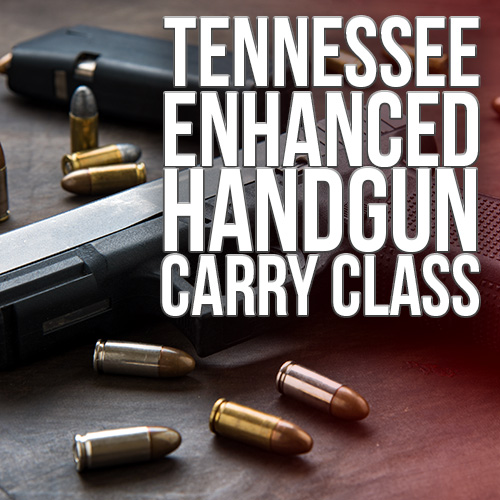 To obtain an Enhanced Handgun Carry Permit in the State of Tennessee, you must complete an 8-hour handgun safety course offered by a handgun safety school certified by the Department of Safety, such as that offered by Buds Gun Shop & Range. The course includes both classroom and range (shooting proficiency) portions.
The Enhanced Handgun Carry Permit is Tennessee's upper-tier permit that allows you to carry your handgun, open or concealed, in the greatest number of areas within the state. If you wish to travel outside of Tennessee, the Enhanced Handgun Carry Permit is also recognized by the greatest number of states within the U.S.
Our Enhanced Handgun Carry Class will explain where handguns may and may not be carried as well as the proper ways to transport your handgun, within and outside of the state. We cover the basics of Tennessee self-defense law and discuss various scenarios in which a person may be called upon to defend themselves or others. You will learn about a variety of handguns, their features, and ways to safely carry based upon those features. You will also learn the fundamentals of marksmanship to help you safely exercise your right of self-defense. Finally, we will explain the state's application process and fee structure for obtaining your Enhanced Handgun Carry Permit once you have successfully completed our course.
Please be aware that once you register for our Tennessee Enhanced Handgun Carry Class, you MUST also Pre-Register with the State of Tennessee AT THIS LINK. Once you complete the online form, you will receive an Application Number which you must provide to us (865-774-2007) before arriving at class.
NOTE: Please arrive 15 minutes prior to the 10:00AM start of class, park at the rear of the building, and use our rear entrance. You are responsible for bringing your own firearm (iron sights only, no optics) and 50 rounds of ammunition. Rental handguns are available and ammunition is available for purchase. Please leave your firearms and ammunition locked in your vehicle until the classroom portion of the class is completed.