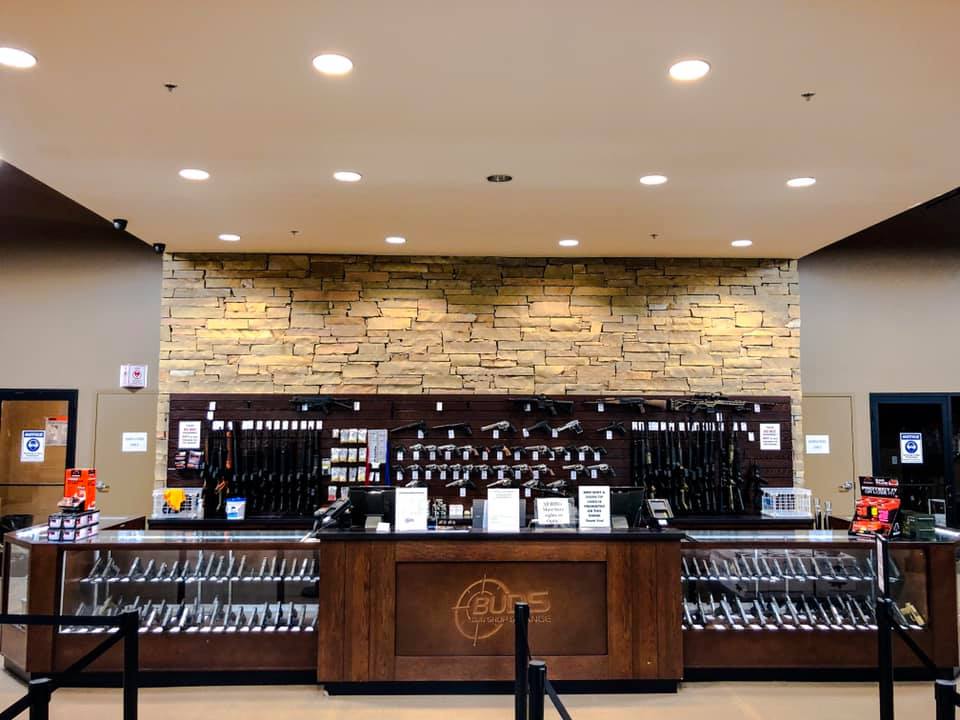 Along with the impressive and extensive showroom that Bud's Gun Shop has to offer, the Range at Bud's is equally impressive. Hand crafted and custom built in the United States by Fusion Targets, this 25 lane range is unlike any other in America. In addition to framing the entire range with the finest quality AR500 steel, Fusion Targets has upgraded and custom built every aspect to enhance your shooting experience.
Shooting stalls at Bud's feature exclusive, oversized, and luxurious details including private 9′ by 8′ stalls, GFRC leather-topped gun and Ammo tables, custom beveled sound absorbing and deflecting material, LCD information screens, state of the art retrieval systems, spot and target-view LED lighting, drop acoustic ceilings, and even real rock finish on each stall. The reinforced 1/2″ AR500 Steel construction of Fusion Targets bullet chambers make virtually any carry-friendly firearm possible for practice. Bullet proof windows framed by triple enforced sound absorbing material allow for additional viewing from the showroom, and the wood-paneled shelving behind the stalls give members the ultimate experience in shooting luxury and functionality. Add temperature controlled clean air, 25 yard lanes, and automatic Mancom retrieval systems, and it's easy to see why the range at Bud's Gun Shop is the new benchmark for the shooting enthusiasts experience.
We offer Buds Gun Range Memberships.